Plant tour: Rathdrum, ID

|

Space Screw Inc. – Wednesday, March 15, 2017 
WHAT:
SME plant tour of Space Screw Inc located in Rathdrum, Idaho.  A machining and turnings manufacturer and supplier to the aerospace and other industries.
WHEN: 
Wednesday evening, March 15, 2017  Attendee registration: 5:30 PM; Tour starts at 6:00 PM
WHERE:
Space Screw, Inc.,
6720 W Boekel Rd, Rathdrum, ID 83858
Phone: (208) 687-9364
WHO SHOULD ATTEND?
Manufacturing professionals, managers, engineers, production operators, machinists and SME members
COST:
Registration is free but SME asks for a $5.00 donation for its education fund on-site
NETWORKING:
Following the tour, an informal NO-HOST networking function is scheduled for
Capone's Pub and Grill
315 N Ross Point Rd, Post Falls, ID 83854
(208) 457-8020
SME MEMBERSHIP:
If interested in being an SME member, look at the SME Membership Application. Download the pdf file from the link shown below. Membership is open to manufacturing and business professionals, as well as engineering and STEM students  SEE:  http://www.slideshare.net/dryfinish/sme-senior-memberapp
COMPANY BACKGROUND:
A company profile, excerpted from the Spokane Business Journal article from several years ago is shown below: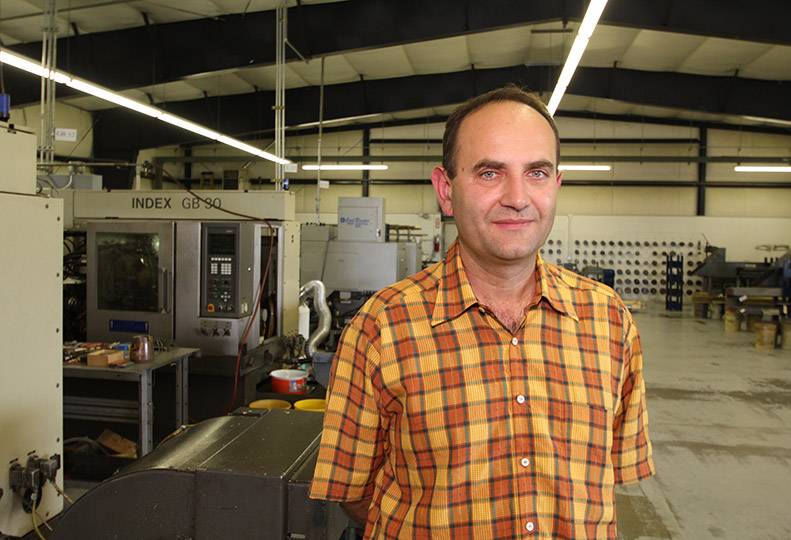 Christian Cosma, CEO and owner of Space Screw, Inc., located in Rathdrum, ID
Christian Cosma, who bought Space Screw a number of years ago, says the company uses 14 specialized industrial milling machines called screw machines to make threaded metal fittings from 12-foot-long metal bars that come in various shapes and diameters.
The 49-year-old company has been located since 1998 at 6270 W. Boekel Road, in east Rathdrum, where it occupies 10,000 square feet of shop space and 2,000 square feet of office space.
Space Screw currently fabricates about 100 different parts with diameters of up to 1.25 inches for suppliers, vendors, and other manufacturers, Cosma says.
"Our parts end up on aircraft made by Boeing and Airbus and all the major players, although they change hands several times," he says.
The company, which has 10 employees, is operating one shift, with some work overflowing into the weekends. Some of its machines don't need to be staffed and can operate unattended up to 18 hours a day, Cosma says.
Kevin Bates, a quality and production manager with the company and grandson of its founder, says some of the screw machines can meet tolerances of up to half of a thousandth of an inch for some aerospace applications.
The parts Space Screw makes range in price from 3 cents to $7 each depending on the complexity of the design and the hardness of the metal, Bates says.
Brass, for instance, is a comparatively soft metal that "cuts like butter," while stainless steel is much harder and parts made from it take more labor and machine hours to fabricate, he says. Some parts are made ahead of time and sent to customers in quantities of up to 10,000 parts as they're needed, Bates says. One machine is fully dedicated to one product for a single customer. For about five years, day in and day out, it has made brass valve caps about the size of a conventional tire valve-stem cap. Each cap is worth only a few cents, "but multiply that by 5 million and that adds up," Bates says. "Plus, we get the scrap." A bin of brass scrap that measures roughly four feet cubed can be worth $5,000, Bates says. In general, scrap filings, shavings, and cuttings are collected and sold to recyclers, accounting for about 5 percent of the company's revenues, he says.
Space Screw was founded in the Los Angeles area by Melvin Bates in 1964, and served the aerospace industry exclusively through the 1980s. Bates says his father, Joe Bates, decided to move the company in the aftermath of the 1992 Los Angeles riots. The riots started in southern Los Angeles, and spread to other parts of the city during a six-day period following the acquittal of police officers who had been accused of police brutality in the Rodney King beating. During the riots, one Space Screw employee was robbed and another was assaulted, Bates says. "We were in the middle of a war zone," he says.
During the following few years, Space Screw was courted by several states including Colorado and Utah, which offered a dowry of free land. North Idaho, though, came out as the top suitor, and Space Screw began building its Rathdrum facility in 1995, Bates says. It took another three years for the company to plan and complete its move, he says.
Cosma says that today, 70 percent of Space Screw's production is aerospace related, and the majority of its customers are still based in the Los Angeles area. The company also sells parts for telecommunications, medical, high-performance, and industrial applications, he says.
Cosma says the greater Spokane area is Space Screw's second biggest customer base, followed by Idaho, and a small number of customers in Kansas.Cosma came to North America from Romania with a master's degree in aerospace engineering in 1994.
He worked for a U.S. company in Canada before moving to the U.S. in 1999, and he has since earned a master's degree in business administration from New York University. His primary residence is in Walla Walla, Wash., where his wife Dr. Michaela Cosma is a physician and where he had been employed by Key Technology Inc., a maker of high-speed conveyor and food-sorting systems.